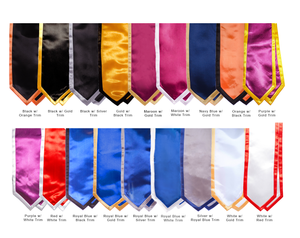 Our graduation Stole/Sash is 72" inches in length.Nice smooth and highest quality material.We offer many stole/sash colors; trimmed graduation stolesare available with a solid color and a different color in the trim of thestole. Our stoleshave a silk look and feel to them.
*Free Ground Shipping on all orders
*Ships within 1 business day.
*Need it in a hurry rush shipping available
Don't see the color you want? No problem, we can custom make trimmed stoles with a minimum of 200 pieces. Custom colors take 6-8 weeks in production. Email us for pricing at sales@thehonorcordcompany.com